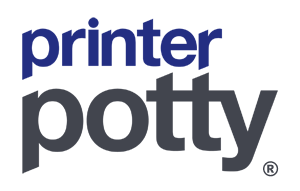 The Printer Potty® is the new brand name for our waste ink kits and helps encapsulate what you're doing when you install a waste ink tank in your inkjet printer,
ie: Potty training it
Ok, so it may be a so-so "cute" name but that doesn't detract from the fact that there are a lot of similarities between successfully potty training a small child and fixing one of these to your printer.
| | |
| --- | --- |
| Small child | Your Inkjet |
| No need to add to the landfill with more nappies | No need to buy more printers as your existing unit stays out of the landfill for a lot longer |
| Saves you money (ish) | Saves you money (see below) |
| No more overflowing nappies/diapers | You can now ignore the waste pads |
Ok, so that's a bit tongue in cheek but the points are still valid.
Environmental savings
By keeping your existing printer you are:
Keeping it out of the landfill/recycling chain for a lot longer
Reducing demand for new printers
Keeping unused cartridges, inks or CIS systems, again avoiding unnecessary waste
Cost/Money savings
With the minimal cost of the Printer Potty, keeping your printer running also saves a considerable amount of money:
No need to buy any new printers (potentially for 5+ years!)
No need to buy expensive new consumables
(especially if original consumables are the only ones that would work with a new printer!)
Other savings
It's not just about money either:
No new software or drivers to install
No reorganising space to fit a new printer in
All your experience of your existing printer is still relevant so no new lessons, quirks to learn
Printer manufacturers may argue that their recycling intiatives can make use of almost all the materials when a printer is disposed of, but all this requires energy, potential pollution that needn't be expended in the first place.
Ultimately, it comes down to one thing...
Why throw out a printer when you can potty train it?