What is it?
Normally your Epson printer dumps it's "head cleaning" waste ink into a set of pads in the base of the printer which after a while results in your printer demanding a service (see below). The waste ink bag (WIB) kit provides all the parts you need to redirect all the waste ink into an external waste bag.
Service Required?
Most Epson desktop printers have been built with a printhead that is capable of lasting decades (with proper care) but it has one achilles heel in it's handling of waste ink. Epson printers waste considerable amounts of ink into its waste pads which sooner or later need emptying. When the printer decides it's full it will flash up a message "Parts inside the printer have reached the end of their service life"
This kit provides you with the necessary kit to redirect all the waste into a sealed, strong bag which is easy to empty and re-use with minimal mess. All you need to do when you get the dreaded Sevice required message is reset the waste ink counter and you're good to go.
Note:
The Epson 1400 adjustment utility is provided free for customers purchasing this kit and is sent by email. We do not sell or provide this utility separately.
This kit does not include a comprehensive reset tool for other printers (it doesn't exist!) but links to information and resources are constantly updated via our website. The most popular (the SSC utility) is easily downloaded free here: http://www.ssclg.com/epsone.shtml


Compatibility:
1390, 1400
1280, 1290
CX6400, CX6600
This kit will also suit other single waste tube printers (as below) but has a longer (30cm instead of 15cm) tube which may be unnecessary in most cases.
All R200 series printers (ie: R200, R220, R240, R260, R265, R270, R280, R285, R290)
All R300 series printers (ie: R300, R320, R340, R360, R380, R390)
All C/D series printers (ie: C84, C86, C88, D88, C64, C66, C68)
All RX series printers (ie: RX420, RX425, RX430, RX500, RX580, RX620)
...All single waste tube printers...
This list is not exhaustive, so please message me if you are unsure.
Note: Asia, North American & European models differ from UK models in model number but are often the same printer type (eg: C88 in Europe = D88 in UK)

What's different?
There are already a number of "Waste ink tanks" available on Ebay, and elsewhere, that provide a rigid container but none are completely self contained or mess free as they all require a vent hole for air to escape as the waste ink replaces it. This kit completely removes the need for a vent by providing a number of carefully thought out features:
The "Tank" is actually a sealed bag which can expand as the waste ink enters (thus no need for a vent)
The bag cannot "fall over" or create a spill unless someone deliberately detaches or seriously yanks the fittings.
The bag uses an automatic valve system that closes whenever you unscrew the tube fitting from the bag, thus reducing potential for mess.
A "vent fitting" is provided to open the valve when you are ready to dump the bag contents
You can re-use the bag as many times as you want
You even get a tube clamp which allows you to clamp the waste ink tube at the printer, while you take the waste ink away to dispose of it (but you must remember to re-open it!)
Avoiding some common issues
The system also takes into account some very important points that MUST be considered when installing a waste ink tank of any kind.
The tubing and "tank" should NEVER be higher than the printhead (approximately 2inches/ 5cm from the base of the printer) otherwise the ink can backflow into the waste pad, that the printhead rests on.
Any backflow can soil the bottom of the printhead and causing ink mixing, clogging or worse! (Some kits on eBay completely ignore this principal!)
The kit includes a simple barbed fitting which slides into the existing Epson waste ink tube thus extending the original waste tube and avoiding any need to pull the tubing.
(A number of users have pulled too hard on the existing waste tube and "killed" their printer by breaking the tube off the waste ink pump!)
Instructions
The instructions for fitting this kit are available for download here: WIB installation & venting
---
Kit specification:
220ml (minimum)capacity Bag, pre-assembled with:

Bag Fitting
Self-closing valve

Extension/Connection tube, pre-assembled with:

Tygon tubing

30cm

length (custom lengths available on request)
1x Tube clamp
1x Barbed tube connector

1x "Vent" fitting (for emptying air/ink from bag)
---
NOTES:
The R1800, R2400 models have two waste ink tubes that requires a different kit... Please see my other listings.
---
Important:
If you have any doubts that your printer model can be modified please contact me BEFORE you purchase this kit.
Modifying your printer will invalidate any warranty you may have received when purchasing the printer.
---
Valve System
(Valve part may differ)
Vent/Empty Bag Fitting
(colour may differ!)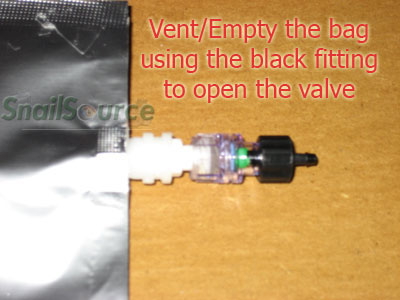 D88 example installation

Kit contents
(components may differ slightly but functionality remains the same)