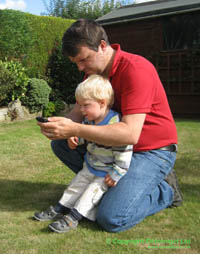 OctoInkjet is the brain child of (me) Martin Smallridge. I'm a sole trader with roughly ten years of experience within the inkjet printer domain and a considerable portion of that has been spent delving far deeper than the average user.
This obsession started thanks to my previous role of looking after primary (K-12) schools in the UK.
The low budgets available in such schools made the use of CIS and waste ink management an obvious path to low cost printing (as low as 0.4p per page!). The key benefit being childrens ability to print and share their work without teachers fretting about cartridge/ink costs. Naturally, with positives like this, it is one I quickly focused on.

This early research expanded into what are now widely known as Continuous Ink Supply (or CIS) systems which is still an area of interest.
In case you hadn't noticed, the waste ink side of things has become a primary focus. With so many poor quality kits out there, I quickly realised that "cheap" didn't equal "cheerful customers" so I set about designing and building my own kits.
Coupled with the SquEasyFill refilling kits, Image Specialist inks and various other tools relevant to the enthusiast, OctoInk continues to cater for those looking to get the most out of their inkjet printer.
As of October 1st 2011, OctoInkjet has been incorporated as OctoInkjet Limited
( Company No: 7769192 / VAT Number: GB120631660 )
There is life outside of OctoInkjet although now most of that revolves around my wife and our "I'm a handful!" toddler son.
If you'd like to contact me you can use one of the following:
Note: The postal address has changed
Email:

ku/oc/tejkniotco//troppus

Phone:

+44 (0)1226 827277
+44 (0)1709 300044

Post/Mail:

OctoInkjet Limited
Unit 18,
Century Business Centre
Century Business Park
Manvers Way
Manvers
Rotherham
S63 5DA
UK
..or..
use the contact form below.
The characters you copied from the image are incorrect. Please try again.