If you're buying for a different country (outside the UK) we try to make things as easy as possible for you to be able to view your order and pay in any number of the more common currencies*
As a result we have a number of ways to ease the process, reduce additional expense and welcome International orders.
Currencies/Payment Accepted for International Orders
We able to accept payments in the following currencies as follows:
Euros (€)
Credit/Debit Card [SagePay]
Credit/Debit & Corporate Cards [Stripe]
Paypal
Bank Transfer

US Dollars ($)
Credit/Debit Card [SagePay]
Credit/Debit & Corporate Cards [Stripe]
Paypal
Bank Transfer

Australian Dollars (AUD$)
Credit/Debit Card [SagePay]
Paypal

Canadian Dollars (CAD$)
Credit/Debit Card [SagePay]
Paypal

UK Pounds Sterling (GBP£)

Credit/Debit Card [SagePay]
Credit/Debit & Corporate Cards [Stripe]
Paypal
Bank Transfer
Transferwise

Credit/Debit Card option
Paying in your own currency (if available) should help reduce the charges normally associated with foreign currency transactions.
Note: Some banks and card issuers apply fees/charges due to the transaction being with an "International" vendor so we would recommend talking to your bank/card-issuer in advance and/or check your cards terms and conditions to identify what these fees are before placing an order.
Paypal option
We are able to accept all our displayed currencies as payments using Paypal via the standard checkout process (not Express).
Note: This does not include "Paypal Express" which does not provide the functionality required for non-GBP transactions
Making a non-GBP payment
The process of paying for an order in one of the accepted currencies (see table above) is as follows: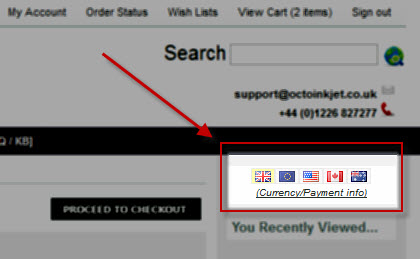 Visit your cart
Select the appropriate flag for your intended currency from the list shown (see image right).
Select and add your order items to the cart as normal.
During checkout, select one of the following:

"Credit/Debit Card (£/€/$) [SagePay]"
"Credit/Debit & Corporate Cards (£/€/$) [Stripe]"
"PayPal (£/€/$)"


Make sure that the amount is in your chosen currency before you complete payment.
Supply payment information as normal


Other Payment Options
All other payment options or currencies must be paid in Pounds Sterling (GBP) because of the problems associated with tracking currency exchange rates and other administrative bookkeeping.
To be clear these payment methods all require payment to be made in Pounds Sterling (GBP)
Note: Because of the way International payment clearing works, some International transactions will be accepted but flagged for manual verification. This means that the payment is held until the payment details can be checked, sometimes requiring direct contact with the customer to verify identity.

Whilst this can be an inconvenience, the issue of fraud is one that affects both customers and businesses so these measures are designed to protect both parties as much as humanly possible. Your patience, in instances like this, is appreciated.
International Bank Transfers (IBAN / SWIFT)
Currency Account Details:
| | | | |
| --- | --- | --- | --- |
| Currency: | GBP (Pounds Sterling) | EUR (Euro) | USD (US Dollars) |
| BIC / Swift Code: | MIDLGB2171J | DEKTDE7GXXX | MIDLGB22XXX |
| IBAN / Bank Account: | GB07MIDL40424901811517 | DE88700111106050007500 | GB53MIDL40051576952149 |
While we do accept such payments it is important to note the following requirements:
All transfer/bank charges are paid

by you, the customer



Payment must be made in the currency used by the selected account (See above).
GBP (Pounds Sterling) is the default.

Allow up to 14 days for payment to clear

No orders will be released until payment has been confirmed as received and cleared in full
If the above requirements have been ignored, orders may be rejected or held until such time as full payment has been received.
In instances where a refund is necessary, the refund amount will reflect any deductions for bank charges incurred as a result of the payment, and/or refund.
Please Note:
This option is provided as a courtesy to customers who have difficulty accessing and/or using other payment methods, but is not the most efficient or cost effective way of purchasing from us. If you are able to use a debit/credit card, paypal or one of the other payment options it would be advisable to use that instead.
Transferwise
This is a new service that allows international payments between bank accounts with considerable reductions in the bank charges normally required. More details are available on the Transferwise website.
If you are registered with the service and wish to use it to make a payment please complete your order as follows:
Complete the checkout process as normal until reaching the Review screen
Locate and select the "Transferwise" payment option
Complete notes, etc and submit order as normal
Follow instructions for submitting payment
Note: The Transferwise system does require an ID verification process which does mean this option may not be ideal for most customers. However, while this is not the quickest payment option our experience has shown it is cheaper to use than normal bank transfer options and certainly worth considering for higher value orders.

There are restrictions regarding who can use this service so please check the Transferwise website for more details.